Bill Gainer, Laura Martin, Phillip Larrea, Katy Brown
Monday, Dec. 15 at 7:30 PM
1719 25th Street
Host: Cynthia Linville
Join us for a Twisted-Holidays-themed-reading followed by an open mic for poems on the theme. Holiday treats will be provided. Cynthia Linville hosts. Free.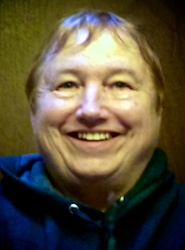 Katy Brown
Katy Brown has written a few poems and taken a few photographs since she retired from civil service a couple of years ago. She is rumored to prefer Halloween over Christmas and has been known to overcook the traditional holiday roast beast. She devours science fiction and mystery novels and will spontaneously quote her favorite Star Trek episodes without provocation.  She does not color within the lines and enthusiastically sings off-key, throwing whole choirs out of tune. Her secret power is that she can catch a lizard with a blade of grass.  Her favorite colors are puce and mauve.  It is frankly a wonder anyone still lets her in the door.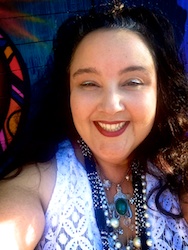 Laura Martin
Laura Martin is a free-lance writer and photographer whose work has appeared in publications throughout California including: Tule Review, Late Peaches: Poems by Sacramento Poets, Medusa's Kitchen, Convergence – An Online Journal of Poetry and Art, Sacramento Voices, Verse on the Vine, Susurrus and Soul of the Narrator. Her poetry has been nominated for a Pushcart Prize and has won the grand prize in the Second Annual Pat Schneider Poetry Contest. Martin fronts The Soft Offs – a spoken word/ jazz/ blues/ beer band that takes the written word from page to stage. Bill Gainer says, "Martin, solo or as part of a group finds herself in front of an ever growing audience. She is a talent in full bloom – a writer capable of stealing hearts and giving then back unblemished.  She is marvelous."

The Benefits of Rapture
By Laura Martin
Have you heard the news?
No more shopping days until
Christmas F-O-R-E-V-E-R!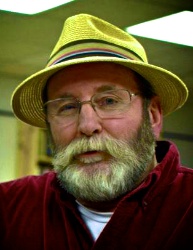 Bill Gainer
Bill Gainer contributes to the literary scene as a writer, editor, promoter, publicist and poet. He reads and works with a wide range of poets and writers, from the emerging to the nationally known. He has won the San Francisco Beat Museum's Poetry Contest and the Sacramento News and Review's Flash Fiction Contest. He continues to edit for the PEN Award winning R. L. Crow Publications and is the ongoing host of Red Alice's Poetry Emporium in Sacramento.  Gainer's latest book is Lipstick and Bullet Holes. Visit him at billgainer.com.
A Christmas Visit
by Bill Gainer
Our insurance provider
gets a little nosy
this time of year
likes to update the files
wants confirmation
the wife,
Kae St. Marie
is still with us.
I told them
I keep her
in the closet
wrapped in six large
yard bags
with eighteen room
deodorizers
asked
if I should send
a photo.
The police showed up
just before Christmas
we hadn't done
our holiday baking
yet,
were a bit
embarrassed,
not having any
sweets
to offer.
Phillip Larrea
Phillip Larrea is the author of We the People (Cold River Press) and Our Patch (Writing Knights Press). Since 2012, his poems have appeared in over ninety journals, anthologies and magazines in the U.S., Ireland, Canada and Asia. He is the winner of the 2013 New Frontier Prize for poetry.
Homecoming
By Phillip Larrea
Come winter,
We come home.
Where it's warm.
Or gone cold.
As a hearth
Smoldering.
Blood thicker
Than water.
Dried hard—stone.
{ 0 comments }